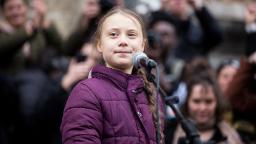 The image showed a BMW partially submerged in the floodwaters. A sticker on the back windshield reads, "F**K YOU GRETA."(We've censored the profanity.)
Greta is presumably
Greta Thunberg
, the famed teenage environmental activist. So the image created the impression that an aggressive opponent of climate activism had been harmed by the kind of extreme weather event that scientists say climate change is making more frequent.
Numerous people who shared the image said it was "karma."
Profane anti-Thunberg stickers do exist and have been spotted on vehicles in Europe. The German news website RND noted that before the fake image went viral, at least one person on Twitter had mused about the possibility of photos showing flooded SUVs bearing such stickers.